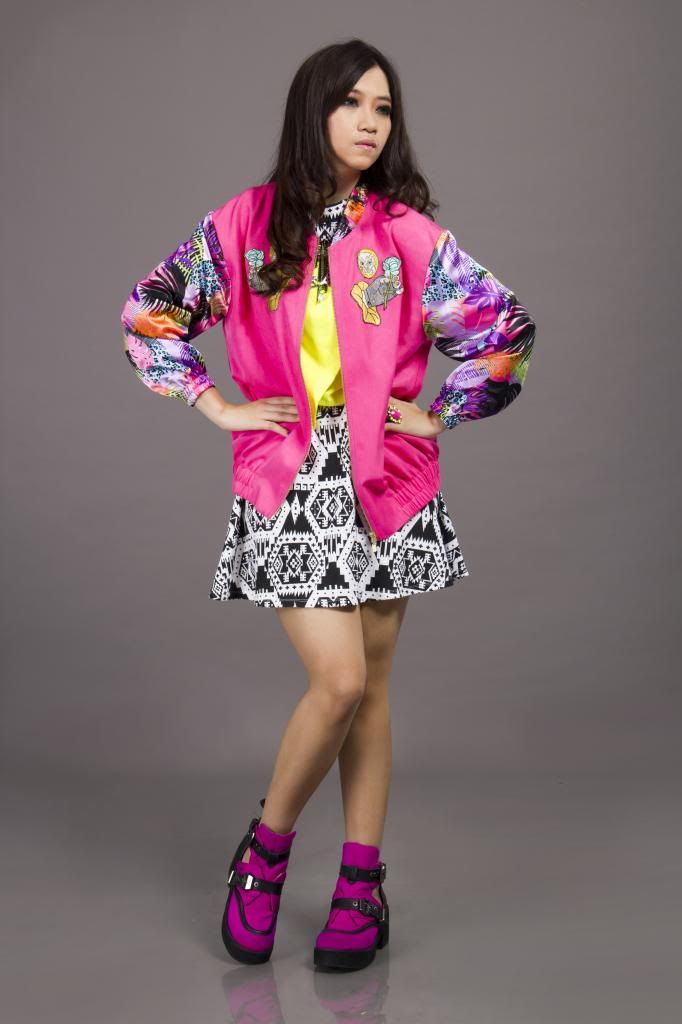 Credit : Reza Aditya

Tops
:
unbranded neon asymmetrical cropped top
;
Dress
:
Topshop

mini skater dress in baroque pattern
;
Outerwear
:
patterned pink bomber jacket from Indonesian local brand
,
Jvstify
;
Necklace
:
layered chains statement necklace from Thailand market
;
Shoes
:
Coltrane Jeffrey Campbell boots in fuchsia
Being too busy for these few weeks and the next few weeks. Not pretending to be busy like i do usually, but these 2 months are very tiring. Currently, i am interning as this is compulsory to be finished before next month graduation *YEEEYYY*. I am working with a production company who currently working on Singapore TV shows called Supermodelme. You all should watch!! *forcing*
Anyway, I'll share later about my internship program after i finish it. Wish me a good luck of my last mont in college :D

I went back to Indonesia for celebrating my brother's birthday, okay only for weekend because i am working. Even though this is such an unprepared photoshoot and i didnt bring a lot of clothes,as always i stole my sister's :D.
So sorry sissy!!!

Proudly saying, this outerwear is from Indonesian local brand and i do really love it. Even though, it took quite a long time to order it, but this is well worth the wait. Please kindly check it their amazing collections
here
xx,
Rafaela Deandra
Instagram and Twitter : @rafaeladeandra